Now that I officially have my Master's degree I've turned my intellectual processes to encompass only things of substance and great virtue. Thus we come to my next subject of post; Tattlers.
Whenever anyone was growing up anywhere they never wanted to be a tattler. Tattlers were assholes. Amazingly, everyone knew this and backed it up. Example:

Pete: You're a Butt!
Tattler Ted: Pete said Butt! Pete said Butt!
Teacher: Pete don't say Butt! Tattler Ted, no one likes a tattler. Now come up here and I'll administer your lacerations.
What's more amazing is that tattlers always seemed to take great pride in the "work" they'd just done. Think about anytime anyone tattled. As soon as the culprit was busted the tattler would smile, grin and willfully accept their shameful label from peers and grownups alike. Odd? Yes. Stupid? Yes. Explainable? No.
Maybe I'm not around kids enough anymore (insert awesome slam against people my age who act like they're 12 – or like they're on MTV) and maybe they still do this, but what I'd like to know is when did ratting people out become cool? Never that's when. But for some reason adults seem to let it slip and protect these assholes – case in point, a DAY after I started writing this blog we finally find out who deep throat is. I'm not protecting what Nixon did, but I think this chump should be considered a grade-A jerk by everyone for tattling.
So in the spirit of ridiculing tattlers, here are some tattlers then and now with a brief insulting blurb about each one:
Hitler – a lot of people don't know this, but Hitler was infamous for busting his fellow classmates when he was little. Not surprisingly he stayed away from the non-jews.

(Then)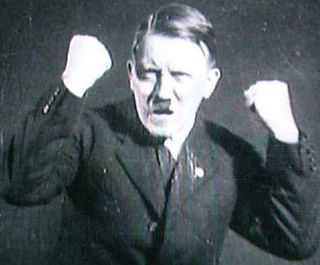 (Now…well, not really, I guess this is just Then only later.)
John Rocker – We all know John Rocker as perfectionist of modern day bigotry, what you may not know is that his friend once looked up a girl's skirt in 3rd grade and Rocker tattled. That lead him down the path of the dark side as, for years to come, Rocker tattled on people for things such as: Cookie-stealing, hookey, and spit-wadding.

(Then)

(Now)
Kid Rock – this uneducated hillbilly half-wit is not only one of the least-talented people with a record contract but he once blew the whistle on some classmates who were talking during nap-time. Later that week, Rock was seen napping on a much larger, cushier blue mat. Coincidence? I'll let you decide.

(Then)

(Now)
Osama Bin Laden – Currently known as today's most "feared" terrorist (I can't really say I'm too afraid of a guy who lives in a cave and broadcasts his messages of doom via cassette tape) he was once known as something more simple. In grade school Osama told on his goat when it ate one end of the telephone he made from two cans and a string. Osama called the goat an infidel and crashed a plane into it. He was put in time out for 5 minutes.

(Then)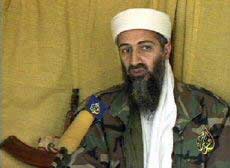 (Now)
Tattling has produced a long line of jerks. I ask that if your small son or daughter tattles you execute them immediately to save the world from genocide, a terrorist attack, or at the very least another idiot's ramblings. If you happen to know someone who still tattles make sure you call them out as such and then play some sort of office prank on them.