Once our airplane pulled up to it's gate in the Cairo airport, we stood up to leave the plane…actually, I'm not sure if what I technically did could be qualified as standing. I got one leg into the aisle and my knees slightly bent before being sandwiched in between two men who ABSOLUTELY had to be the NEXT person into the aisle.
Eventually we made our way off the plane, grabbed our visas from the bank just outside immigration and then proceeded through customs.
As soon as we stepped towards the exit we had several people asking us if we needed a taxi. This is standard practice in Egypt. We refused the first two or so fellows and then a man in a suit approached. I was intent, instead, on talking to the information desk and communicated this to the man in the suit. He then proceeded to walk us over to the desk, lean in and blatantly say something to the man at the desk in Arabic.
I don't pretend to be a great thinker and while I'm fairly well-educated and somewhat street smart, I also won't pretend that I know a lot about the ways of the world. But you see I do know that leaning in and whispering to your buddy in your mother tongue in front of foreigners means scam. And I also know how to use google, and google knows a ton. And from it I had learned that a cab ride from the airport to our hotel should probably cost us around 60 L.E. (Egyptian Pounds).
So the man behind the desk tells us that a cab should cost roughly 115 LE (only 20 US Dollars!) and I was just about to scoff and turn heel when Mary said "That sounds great!" I sighed but I was determined. I knew 115 was way too much. I knew it should really only cost around 60. I also knew I was going to end up paying too much for a cab.
Luckily, what people don't count on, is that I don't mind awkward silence. This pays dividends in negotiations. At first I tried communicating, telling the guy "you know, I looked on google and I know it should only cost around 60LE" to which he responded "huh?"
It was then I decided to just stand there as the language barrier makes silence probably about the best negotiating tactic a foreigner has. That and turning to leave altogether. Anyway, We finally settled on 100LE and while I wasn't thrilled, I was at least happy I won a little bit back, go USA!
When stepping up to the curb to wait for the cab, we were then introduced to a guy on the "tourism board" who flashed us a badge covered in plastic and written entirely in Arabic. Again, I'm no genius but I'm fairly certain that even if a tourism board actually DOES exist in Cairo, or at least even a good fake one does, there'd be some English on the credentials.
The guy basically hops in the cab with us for the first few kilometers trying to convince us to go see the sunrise over the pyramids right now. Luckily Mary was prepared and had read that this would happen and smartly told him we were meeting a friend at the hotel but would take his card and contact him later. The driver pulled around and dropped him off once the decline was official.
Basically what I learned, and re-learned over and over again, is how the standard Egyptian Ponzi scheme works:
1) A guy comes up to you an offers you a service. This is NOT the guy who actually provides the service.
2) The guy offering the service comes around, pays off the first guy, and then either:
a. Introduces you to another guy with a different service.
b. Offers you a different service of his own.
(in both cases, this secondary service costs more, and will also guarantee that you'll be introduced to yet more people with more services).
3) Tip all involved parties.
I also learned that basically everything there is negotiable. What I really wanted to try, but didn't get a chance to because I thought of it too late, was to do the following when I needed a service (in this case, a taxi):
*Andy is walking and leaving hotel, headed towards taxi guys*
Taxi Guy: You need ta—
Andy: *run enthusiastically up to taxi guy's car, shake hand, smile emphatically* Allahn! Ezayak?! I have 50LE and was told you give the best ride in all of Cairo for this! Let's go! *hop in the car, close the door*
I think it'd work like a CHARM. You're in the car, you've got your 50 LE note out, and there's basically nothing anyone can do to get you out at this point…though the country is ruled by martial law so I suppose it could be a bad idea.
Anyway, we arrived at our hotel, dropped our stuff, and pretty much immediately headed to the Pyramids. Mary and I were both impressed with the size of the pyramids – you see them on TV and they give you dimensions but it doesn't even come near doing it justice in real life. These things are huge! We made three basic stops on the tour.
Stop 1 is at the base of the big-daddy pyramid in Ghiza, right near where you get your ticket. There are some good shots to be had at the corners of the thing, while a straight-on view gives a nice idea of how large, and what an amazing human feat it was, to build something of this stature back then.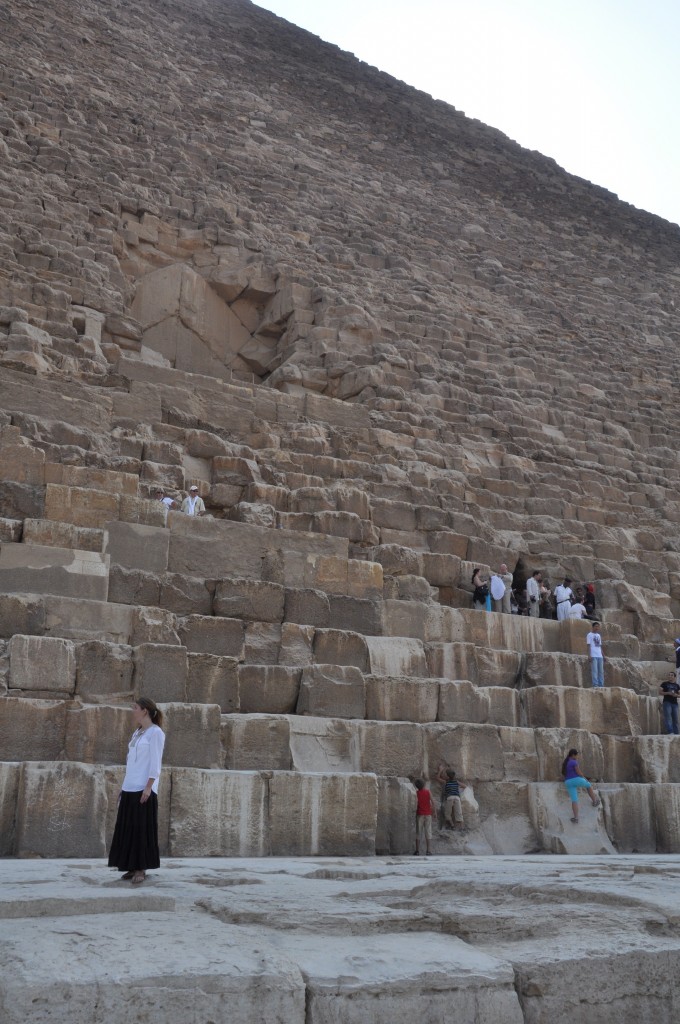 Scammers are everywhere near the pyramids. We were approached in a couple of ways:
1) Friendly old man in ethnic garb offers his hand in friendship to me, tells me "Welcome to Cairo!" and then says "you should take a picture of us!" to Mary. I guarantee had we complied, the next thing would have been "100 pounds please!"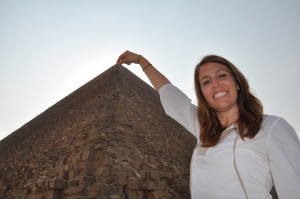 2) Friendly young man comes up and says "you must come this way, the best pictures are from this angle!" Arguably, he was right. There's a shot of Mary 'holding' the pyramid between her two fingers but in general it's a great view. The advice was free. He then tries to get himself into the photo. After we refused, he then says "okay well at least put this on" and tries to put an ethnic head-dress on Mary. Again, denied.
Our tour guide was great and came running over and shooed these two imbeciles away. These guys are generally easy to avoid as, even though they're aggressive about getting you to do what they want, they remain very friendly so just keep saying no.
Stop 2 you basically head around the main pyramid and up a hill to a really nice view of the big guy on the left and then two smaller pyramids on the right. There's also a camel-patch here where you can partake in a camel ride! Our guide was nice enough to help us negotiate for a decent rate and we had a blast. I even took a video of the first minute, and one of the dismount.
Stop 3 was the Sphinx. The Sphinx is pretty cool, not as big as I thought it would be but nevertheless pretty inspiring to see in person. The scamming in this area falls off, however the vendors and their crappy trinkets run amuck being either funny or obnoxious trying to get your attention.
I'd also like to point out that if you're a female and headed to Egypt, for the love of Pete, wear clothes. We saw so many young ladies dressed entirely inappropriately and you're basically asking for unwanted gropes and grabs if you do so – you also make your home country look like idiots – so: cover shoulders, and legs below the knee. It's that easy.
After we declined the souvenir shopping stop on the tour, we headed back to the hotel, tipped the driver and guide, and went upstairs and collapsed. That night was pretty uneventful, we simply headed to a nearby restaurant with Egyptian food and then hit the sack!
It was an awesome day, a great introduction to Egypt's rich history. The next day would bring the Cairo Museum and lunch with another gracious friend!
Check out the camel dismount video!