We had seen the pyramids, experienced the haggle-scam process a few times, ridden a camel, kissed the sphinx and were perched in our hotel room over-looking the river Nile at Intercontinental Semiramis on the morning of Nov. 8th. We got up early to partake in the large breakfast buffet in the lobby of our hotel and had plans to meet Mary's friend Cassie for lunch. We spent a lot of the morning after breakfast in the hotel room being frustrated with internet speed and taking care of some last-minute travel plans.
We headed out to meet Cassie at noon and impressed each other with our improvement in aggressive street-crossing. This level of pedestrian is no joke; traffic flies by at roughly the speed of sound as one bravely power-walks into the middle of it. Taking a step back or to the side is often necessary giving the whole process an 8-bit familiarity as the Frogger theme runs through your head. In Cairo, the punch-line about the chicken might be "because of chronic depression and a penchant for masachism."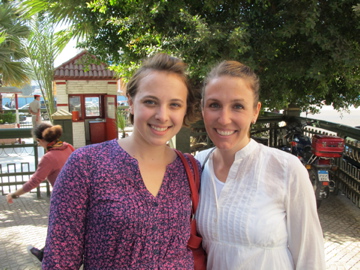 Cassie was a tremendous lunch hostess taking us to a local restaurant for a bowl of kusherie. Kusherie is essentially the blending of the carbohydrates from all cultures doused with a tomato sauce, and served with a vinegary hot-sauce on the side. Delicious! My insulin spike was complimented nicely by a complete feeling of appetite satisfaction.
As our blood-sugar levels started to stabilize and before they plummeted we decided to head to the Egyptian Museum. After learning from Cassie at lunch that Egypt is under martial law, the 18 metal detectors we passed through made more sense logically but the casual attitude of the guards and lack of concern made them seem no more useful. Although being that the opposing party would be brandishing a machine-gun, who was I to argue it's efficacy?
The museum was simply tremendous. Multiple levels of artifacts from thousands and thousands of years ago. Jewelry, pottery, and decorated sarcophogae so ornate that it makes Michelangelo look like a 9 year old girl with a be-dazzler. I was simply amazed by how intricate the drawings, carvings, and sculpture was compared to the early European art I've seen. The Egyptians were definitely an astutely esthetic population. We strolled around the museum for a bit and then made our way upstairs.
Mummies. Nothing about mummies is lame, let me state that right now. Fingernails, skin, hair, and teeth all incredibly preserved! Deciding what was cooler between how well the preservation worked versus how people who lived in such a primitive time could develop the science was only half the fun. The other half was grabbing Mary's shoulders from behind and shouting "BLEEEEH!" moments after she said things like: "That one looks like it's going to sit up and open it's eyes at us any minute!" Once we'd taken in enough of the mummies to generate several bouts of un-dead nightmares we began to wander the second floor.
This was another real treat. As we moved through what seemed like endless displays of sarcophogae we eventually came upon a huge golden box – the entryway to King Tut's tomb, smartly placed at the entryway to the hall containing the remnants of King Tut's burial chamber. A huge, ornate, golden chariot, countless artifacts and offerings, and images of how the chamber looked when it was found give a profound testament to how much the people of Egypt loved King Tut. I hope that when I die people cram me into a room filled with trombones, Xbox 360 games, and a 2002 Land Rover Discovery. We wandered a bit more and then headed back to the hotel.
That night we were very excited to find there was a lebanese restaurant in the hotel. It was simply amazing. I can't do the food justice with my description…mostly because I can't remember the names of things (not that I could pronounce them in the first place). However it was delicious and a great way to say farewell to Cairo, and Cairo to us as the waiter tried to charge us for a whole bottle of wine instead of just the single glass that was ordered.
I also did my best to impersonate the mummies we saw earlier that day, what do you think? (picture coming soon!)
The next morning we're up early again to take a taxi to the airport and head back to Abu Dhabi for one more evening before the meat of journey begins in Bangkok!